Another week has flown by. Which means? New Amazing Staff Picks! (*Fake audience screaming in the background.) Check out what we are throwing your way this week.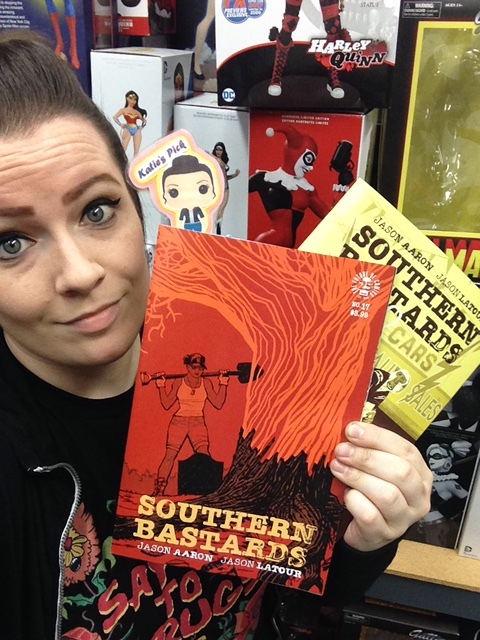 Katie's Pick
"GUT CHECK," Part Three. The bleachers are slick with blood as Coach Boss faces some brand-new competition on and off the field.
Have you noticed that Katie really, really... REEEAAALLLYYYY likes Southern Bastards? The drama is only picking up and Coach Boss is going to go up against his most powerful apponent yet. If you haven't decided to try it the first 43 times we have talked about it, then you need to come in and grab it.
Rick and Morty: Pocket Like You Stole It #2 (of 5)
Norrin's Pick
Morty thinks he's hit the jackpot when he stumbles upon a secret Morty haven, run by Crazy Cat Rick. All the food and cozy body pillows he could want! But he soon discovers that there's a dastardly reason that the Mortys are so docile, and stumbles upon the grand secret of Morty battling. Plus: more Pocket Mortys cards in the back of every issue!
The game is on! Based on the popular Phone App/Game, Pocket Mortys, writer Tini Howard (Magdalena) with artists Marc Ellerby (Rick & Morty Lil Poopy Superstar) and Katy Farina (Steven Universe) tell a story of love, loss... But mostly pitting one Morty against another! There is no question, you should be reading this five part mini-series. WUBBA-LUBBA-DUB-DUB!
James's Pick
EVERYTHING BURNS! Thor and the Ultimate Thor go face-to-flame with the Queen of Cinders! But even the fire of Muspelheim pales beside the fury of the Ultimate Thor... And with his thunder comes his vengeance.
While you are out shopping for Jason Aaron's Southern Bastards, you should also pick up his Thor books. Not just The Mighty Thor... All of them! Do not know what it is about Aaron, but he really likes to telling good stories. And you really need to be reading them all.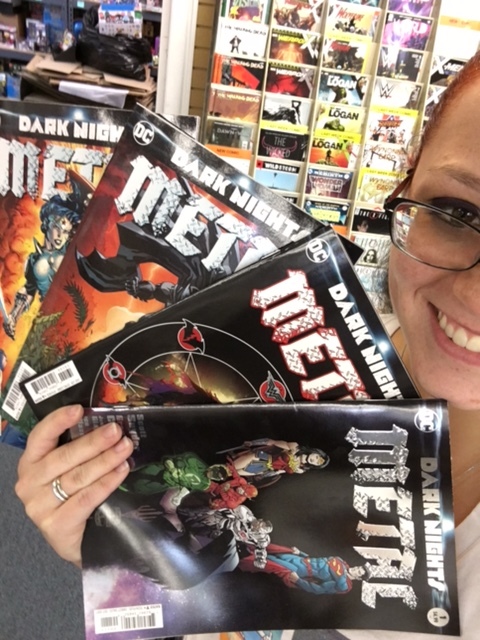 Heather's Pick
The superstar BATMAN team of writer Scott Snyder and artist Greg Capullo reunite for a massive, universe-spanning event! DARK DAYS: THE FORGE and THE CASTING hinted at dark corners of reality that have never been seen till now! Now, as DARK NIGHTS: METAL begins, the Dark Multiverse is revealed in all its devastating danger-and the threats it contains are coming for the DC Universe!
DARK NIGHTS: METAL is a DC event unlike any other-one that will push Batman, Superman and heroes of the Justice League beyond their limits to take on threats unlike any our world has ever seen! It will take the combined might of the World's Greatest Heroes as you've never seen them before to face what's coming their way!
This event will have your heads banging to the beat. Not to give too much away but Metal is literally 'Earth Shattering'. The powerhouse creative team behind Batman (New52), Scott Snyder and Greg Capullo, bring us a story that will drag you in so deeply, you will not even realize what hit you.
We do have a limited supply and we WILL sell out. Have you not had a chance to come in yet? That is perfectly fine. Second printings were announced before the book even hit shelves. Come in and pre-order your copy today!
Phew! So many good books to talk about. And there are even more in the store to chat about. Come by and we can send you home with even more incredible titles. And check back here weekly for all of our top staff picks.