Another week, another incredible set of New Books to grace our comic racks! Well... While they last! So, let's talk about some Amazing Staff Picks!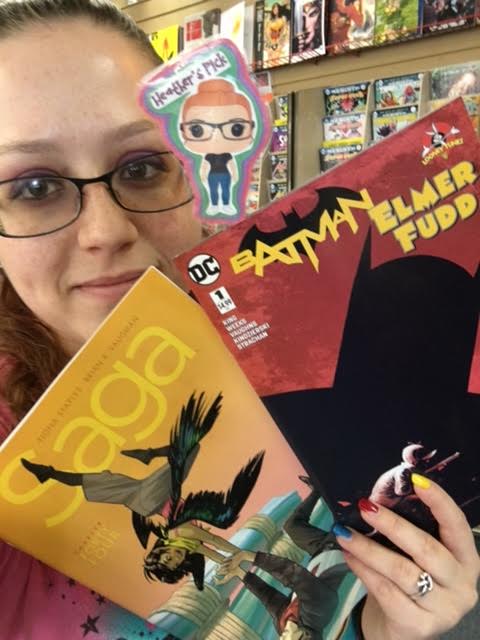 Heather's Pick
Hazel and her family search for elusive treasure: affordable healthcare.
The loss of a child is devastating. Not only to the parents and family, but to the Mother's body as well. But this one is doing equal parts weird as it is bad. Alana is now wielding some crazy powers after the death of her son. Maybe too crazy. And Marko is anxious to help. But will that extra level of anxiety push Alana over the edge and cause her to do something unbelievable?
Issue #44 of the smash hit series from Brian K. Vaughan and Fiona Staples has returned with the second issue of the their eighth arc. Wait, second issue? Yup! The first issue is still available! And only for 25 cents! Yes! To help celebrate 25 years of Image Comics, come in today and pick up a copy of Saga #43 for only $.25!
Oh and about Batman/Elmer Fudd? Don't worry.. We are getting there!
James's Pick
The series that sets up the epic VENOM EVENT of 2017 STARTS HERE! Each issue introduces another major Venomized character that will feed into VENOMVERSE itself! THIS ISSUE, the young mutant clone designated X-23 collides with a cryogenic tube containing a strange alien symbiote during her frenzied escape from The Facility, . Bonding with the alien enhances her already considerable abilities, and aids in her escape, but it begins to alter her mind! On the run from the very people that made her, can X-23 hold it together or is she doomed to give in to Venom!
The VENOM EVENT is coming! In each story a new legendary character will be transformed by the Alien Symbiote. But it all starts with... Well... It started with Spider-man! But... The All-New, All-Different Event begins with the All-New, All-Different Wolverine! Can Laura keep her cool with all of the enhancements that the Symbiote will give her? Or will she fall to its control?
Come pick up the first issue of the Universe Changing Event from writer Matthew Rosenberg and artist Roland Boschi.
Batman/Elmer Fudd Special #1
Katie's Pick
After a chance meeting with billionaire Bruce Wayne, Elmer Fudd's obsession quickly escalates into stalking Batman through the dark alleys and high-class social settings of Gotham City. Welcome to Bat Season! And the bonus Looney Tunes backup story features DC characters written by Tom King and artwork by Byron Vaughns.
It is Bat Season! No... Wabbit Season! No.... Bat Season! In the dark, dreariness of Gotham City, the hunting seasons tend to blend together. After an unexpected death, the hired gun known as Elmer Fudd, makes his way to a bar on the bad side of town. And there, a sneaky trickster turns Fudd's attention towards the Dark Knight.
This is a staff pick of two of the four staff members! Half of the staff is telling you to buy it! This incredible One-Shot mixes the world of the Looney Tunes with the grim alleyways of Gotham City. It is everything that you would never have expected and more! Written by Tom King (yes, the guy currently writing Batman) and with art by Lee Weeks plus a special backup story with art by Byron Vaughns (also written by King), this book is a MUST pick-up! Seriously... YOU MUST COME AND PICK IT UP!
Another Amazing Staff Picks! Keep checking us out weekly for all of the new and the best!