There are so many new titles! So many extraordinary reads and we are here to suggest our favorites. Check out this week's Amazing Staff Picks!
Heather's Pick
From the team behind The Sheriff of Babylon and the Hugo Award-nominated writer of Vision comes a unique new take on one of Jack Kirby's most beloved New Gods.
Scott Free is the greatest escape artist that ever lived. So great that he escaped Granny Goodness' gruesome orphanage and the dangers of Apokolips to travel across galaxies and set up a new life on Earth with his wife, the former female fury known as Big Barda. Using the stage alter ego of Mister Miracle, he has made a career for himself showing off his acrobatic escape techniques. He even caught the attention of the Justice League, which counted him among its ranks.
You might say Scott Free has everything...so why isn't it enough? Mister Miracle has mastered every illusion, achieved every stunt, pulled off every trick - except one. He has never escaped death. Is it even possible? Our hero is going to have to kill himself if he wants to find out.
Writer Tom King (Batman - Rebirth) and artist Mitch Gerads (Punisher) really hit the ground sprinting. (Yup, they raced way past "running".) Mister Miracle exposes a brittle side of the New God and what it takes to stand up, even when you are at your weakest moments, when faced against unimaginable odds. Mister Miracle #1 is filled with punch-in-the-gut emotion that makes it so easy to flip from page-to-page that you do not even realize you have been sucked in. You really... REALLY need to come in and grab a copy of your own!
That is... If we were not already sold out... If you missed the first round, do not fret. We are currently taking pre-orders for the 2nd prints!
Katie's Pick
A brand-new horror book from the minds of Eisner Award-winner JORDIE BELLAIRE (Pretty Deadly) and critically acclaimed artist VANESA R. DEL REY (Scarlet
Witch) brings you to the sleepy, sunny town of Redlands, Florida. The police are failing to maintain control of their old-fashioned town, and a coven of killer witches plan to take everything from them. This summer, hide your bibles.
There are places all over the world... Drenched in darkness. And sometimes that darkness, that classic human darkness, needs to be wiped clean. Made anew. Bellaire put out a letter (not the one in the back of the book) that stated that Redlands was her way of getting out her emotions. Of letting lose the flood gates, so to speak. And, by every definition, Redlands is exactly that. The book is magic, freedom, wickedness and emotion all rolled together. It is so good, in fact, both Heather and Katie are suggesting it. So you know you need to come in and grab it!
BONUS SUGGESTION: Katie has had Kill or Be Killed, by Ed Brubaker (W) and Sean Phillips (A), as her Staff Pick in the past. Well... Volume 2 is out and it is waiting to go home with you!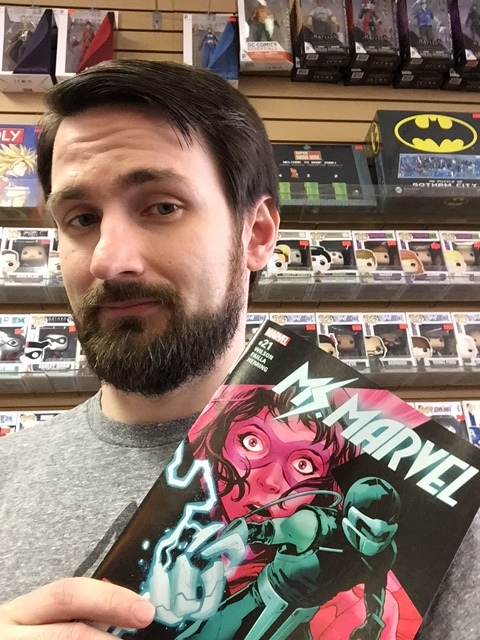 James's Pick
Keep your friends close and your enemies closer - a familiar adage for a veteran hero like Ms. Marvel. But when Kamala discovers that one of her old friends has joined forces with her enemies, things get a LOT more complicated...
When you are a Hero, especially a young Hero, often the most challenging battles are not those fought on the streets against a dangerous villain. But those battles fought inwards, between those whom you believed you were close to. Your colleagues, companions or family. But if you found out that one of them had betrayed you... What would you do? When Kamala is faced with these difficult life questions will she do what is right in the name of Justice? Or will she do what is best for her friendship?
Do we really need to sell you on G. Willow Wilson's (A-Force) young Heroine that has literally taken the Comics World by storm? Do we? Ms. Marvel is phenomenal and you should be reading it! No questions. You SHOULD be reading it! RIGHT NOW!
Do you need more titles? Come in to the store and we will happily hand you more and more great reads. But, for now... TTNF and Ta-Ta 'till next week!