Another new week of books and we have some things to say... And things to throw at you! Here are our Amazing Staff Picks for 06/22/2017.
Norin's Pick
The most fearsome villain of all time returns with an all-new series! When Anakin Skywalker fell, both to the pull of the dark side and to the blade of Obi-Wan Kenobi, he rose back up, more machine than man. Having lost everything that was once dear to him, the former chosen one must take his first steps into a darker world...as Darth Vader, Dark Lord of the Sith! Join Vader as he learns a new way - the way of Darth Sidious and his newly formed Empire...the way of the dark side.
In the second issue of his new series from writer Charles Soule (Letter 44, Poe Dameron) and artist Giuseppe Camuncoli (Green Valley), the Dark Lord of the Sith is back in this All-New series. Anakin Skywalker has died. Under the teachings of his new Master, Darth Vader has risen. And he will be fierce. Come on in and pick up this all new series about our favorite Sith Lord.
Katie's Pick
SERIES PREMIERE
Retired serial killer Edwyn Stoffgruppen is in love with Virginia, a girl he "met online." Her affection quiets his vile urges. Together, they tour the back roads of America in their LTD, eating doughnuts and enjoying their healthy appetites for each other. Life is good...until a Louisiana billionaire kidnaps Virginia, forcing Edwyn to kill again in exchange for her freedom.

Oh, and did we mention that Virginia is a sex doll?
This series from writer Doug Wagner (ICE) and Daniel Hillyard (Sherwood TX) is... CRAZY! That is, in an absolutely must pick up way! Plastic is murder, sex and crazy all rolled up into one fantastic mini-series. After-all, what better story is there than a retired serial killer, returning to the good ol' day job after the love of his life, a sex doll, is kidnapped? Robert Kirkman (The Walking Dead) said, "This is the weirdest **** I've ever read. I love it!" And you will too, so come on in and pick up the firs three issues (of five) now!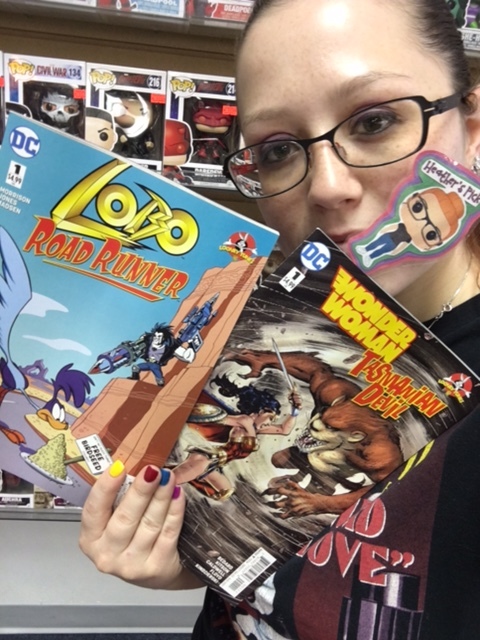 Lobo/Road Runner Special #1
Heather's Pick
Wile E. Coyote travels to the far reaches of space to hire Lobo to hunt down and kill his greatest nemesis of all time, the Road Runner. And when the Coyote and Lobo are
after him, the Road Runner knows if they catch him-he's through. And the bonus Looney Tunes backup story features DC characters with story and art by Bill Morrison!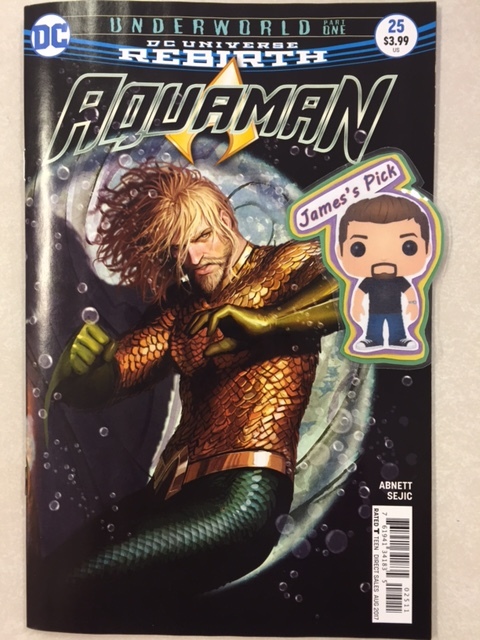 James's Pick
"UNDERWORLD" part one! In this extra-sized anniversary issue, former terrorists have replaced the Atlantean police. Crime lords control huge swaths of the kingdom. And a deadly undersea arsenal is trained on the surface-dwellers. All is as King Rath commands-and yet whispers persist of a rebel in the slums of Atlantis: A hero with the potential to change the world. A whole new era of AQUAMAN begins as master storyteller Stjepan Sejic (Sunstone, Death Vigil) joins series writer Dan Abnett for Arthur's boldest and most harrowing adventure yet!
In this all new, explosive arc of Aquaman (Rebirth), Arthur, stripped of his crown and rank, must now help his underwater city of Atlantis break itself free from the grasp of King Corum Rath. Series writer Dan Abnett (Guardians of the Galaxy) brings in fan-favorite Stjepan Sejic (Death Vigil, Rat Queens) for this epic new piece of Aquaman's tale. If you haven't yet picked up the highly acclaimed Rebirth series, now is the perfect time to start.
Need more suggestions? We are ready to give you all you need and more! Come on in and say hi!