Following a super fun Halloween ComicFest, we need some fun and new... New! Not only are updating the name of our Staff Picks but we are giving you a whole new set of books to enjoy! Let's talk this week's Amazing Staff Picks.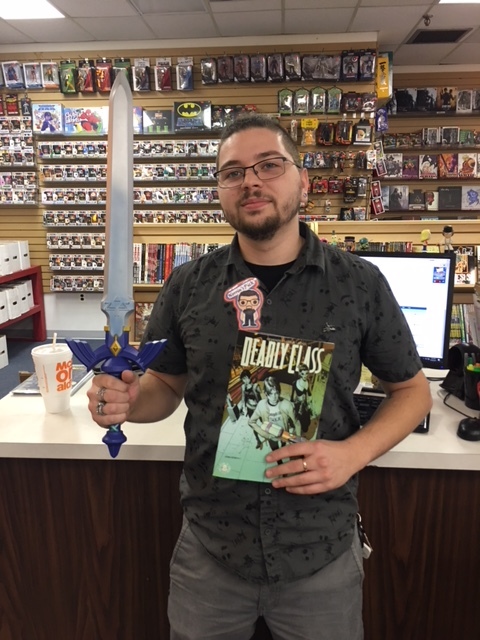 Norrin's Pick
ARC FINALE!
There's something grand about being lame, and the lame are making moves to haunt all who imagine themselves members of the council of cool kids.
The final issue of the sixth bull-busting arc of Deadly Class has arrived. And it is a dousy! Just cause your an outcast does not mean you do not know how to play revenge. It is usually the exact opposite! Rick Remender (Black Science, Captain America, Seven to Eternity) and Wesley Craig (Blackhand Comics) keep throwing punches and we are loving every second! If you haven't yet, absolutely come pick it up! This arc and every trade before!
If you would prefer Trade (as this is the last issue of this arc), we do have all 5 Trade Paper Backs and are now taking pre-orders for the sixth (hitting shelves 12/20)!
EXCITING NEWS!!! All of us at Amazing Comic Shop would also like to give a HUGE CONGRATS to both Rick Remender and Wes Craig! Deadly Class has been picked up for a Pilot by SyFy! And we cannot wait!
Heather's Pick
"THE FREELANCER," Part Four
The rage and the reckoning have an ending...and it is upon him. How many deaths can one man die? Renato Jones is about to find out...Oh, and puppies. Lots of cute puppies.
The 1% have a lot to apologize for and Renato Jones will not stop until he has taught his lesson. No matter how many times he has to personally put himself in danger. Also... Puppies... Everyone loves puppies! Kaare Andrew's (Iron Fist Living Weapon) spins a tale of loss, anger, revenge... Death... And more Death! But in a very relatable we-are-the-99% way. If you want action. If you want the unexpected. If you want the "What the ****?" moment. Come in and grab Renato Jones Season 2!
Katie's Pick
BRAND NEW SERIES! Jughead Jones is a werewolf, and Reggie Mantle has fallen victim to Jughead's monstrous ways. Now Betty Cooper: Werewolf Hunter along with Archie Andrews are hot on the trail of Jughead.
Did you LOVE Frank Tieri's Jughead The Hunger One-Shot from Archie Comics? Yes?!?! So did we! And so did EVERYONE! It was so passionately accepted it has now become an ongoing series! Also from writer Tieri (Catwoman N52) and with artists Pat Kennedy and Tim Kennedy, #1 picks up right where the One-Shot left off. Warewolf Hunters, Betty Cooper and Archie Andrews, are on the hunt for the blood thirsty creature that is Jughead Jones. If you are looking to appease your horror palate! Then this is definitely for you!
We are so happy that we get to talk to you about these books and that you are going to be coming in and we can talk to you about even more AWH-MAZ-ING books. We will see you at the store and make sure you check back here weekly for all of the top titles you should be reading.