We know. We know! We apologize. It has been a month since our last Amazing Staff Picks... But we are back and ready to roll... So let's get right down to it!
Norrin's Pick
Writer: Donny Cates
Artist: Geoff Shaw
Colorist: Antonio Fabela
Letterer: Clayton Cowles
AT LONG LAST...THANOS WINS! When there is nothing left to kill, Death comes...to the one who loves her most - KING THANOS. How will the fantastic saga of Thanos, King Thanos and the Cosmic Ghost Rider end?
Donny Cates and Geoff Shaw, the creative team behind the smash hit God Country from Image Comics, are thoroughly winning at Comics. Their monstrous Thanos story-line has brought us new characters, reintroduced old ones and given us a new look into the mind of the Mad Titan. If you have not yet, DEFINITELY grab this issue and hop into the madness...
Or... At least once the second printing comes out! If you were not able to already grab this issue, the 2nd Printing will be on shelves 04/25.
Heather's Pick
Writter: Gail Simone
Artist: David Baldeón
Colorist: Jesus Aburtov
Letterer: Clayton Cowles
BAD LUCK AND TROUBLE Part 1. Impossible curves. Impossible shots. Impossible targets. Marvel's #1 soldier of fortune is back in an explosive new ongoing series! The product of a failed super-soldier program, Neena Thurman always made her own luck as the sharpshooting mercenary known as Domino... but what happens when her own powers betray her? The hunter becomes the hunted as every mercenary in the game smells blood in the water! Plus: A pair of beloved Marvel characters return!
What happens when the Luckiest among us... Loses her luck? What happens when all those wins finally catch up to you? Neena Thurman, aka Domino, knows. But not in the way you'd think. Her powers make her lucky. But that doesn't mean that her powers are on her side. But now... It is not only her powers in the way. Another force will impede on her luck... And it could lead to deadly consequences.
Gail Simone (Batgirl) and David Baldeón (Monsters Unleashed) bring together a team of... Misfits? Party girls? Well... A really fun team of assassins this must read new series! It is on shelves now!
Katie's Pick
Writer: Jeff Lemire
Artist: Andrea Sorrentino
Colorsist: Dave Stewart
Letterer: Steve Wands
The brand-new supernatural mystery series by the acclaimed team of Jeff Lemire (A.D. After Death) and Andrea Sorrentino (Green Arrow) continues. The mysteries of the "Black Barn" heighten as the reclusive Norton begins to unravel new clues just as a murder spree breaks out in the town of Gideon Falls. But how is it all connected?! The puzzle pieces begin to fall.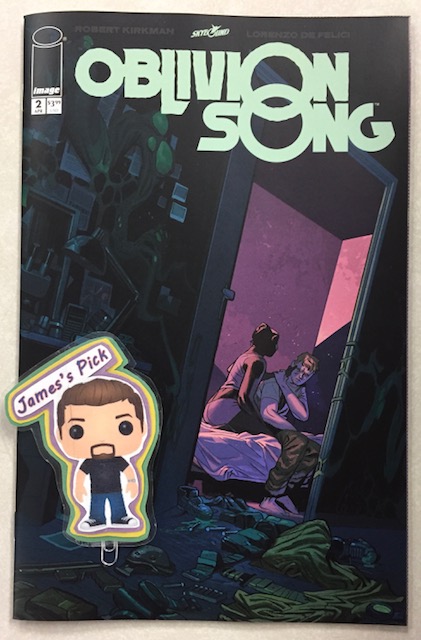 James' Pick
Writer: Robert Kirman
Artist: Lorenzo de Felici
Colorist: Annalisa Leoni
Nathan's obsession with Oblivion has put a strain on every aspect of his life. His love for Heather is really put to the test now that he's closer than he's ever been to finding what he's truly looking for.
See something new? Or something we have already mentioned before? Have you come by to grab the books yet? NO?!?!? Then come in today! Grab these amazing books and make them your own!