Is it time yet for us to talk to you about books you should be reading? Yes?!? Then here we go with this week's Amazing Staff Picks.
James' Pick
Writer: Christopher Hastings
Artist: Gurihiru
Letterer: Clayton Cowles
LOST IN THE PLOT PART 2. Gwen's future page count is running low but her thirst for super hero fun and adventure is as high as ever! What better time than the present to knock off "join the Avengers" from her bucket list?
We cannot believe it either, True Believers! But this is it. Gwen "Gwenpool" Poole's Final issue. (Or so they say...) The final issue is not about the end but about the times we spent with Gwen and all the possible futures in which we will see her again. And again. And again. This may be her last issue. But this will not be the last time we see her. Nor the last time we read about her. Gwenpool will always be in our hearts and living happily on our bookshelves!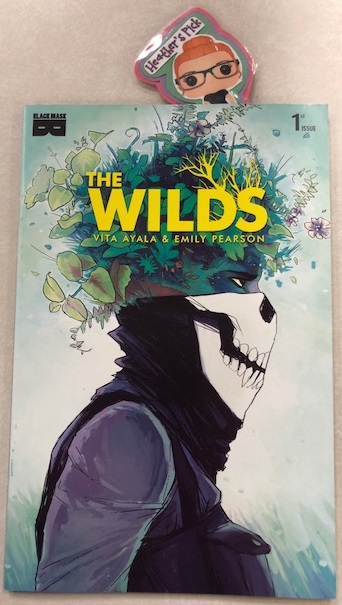 Heather's Pick
Writer: Vita Ayal
Artist: Emily Pearson
Colorist: Marissa Louise
After a cataclysmic plague sweeps across America, survivors come together to form citystate-like communities for safety. Daisy Walker is a Runner for The Compound, a mix of post-apocalyptic postal service and black market salvaging operation. It is a Runner's job to ferry items and people between settlements, and on occasion scavenge through the ruins of the old world. Daisy is the best there is at what she does. Out beyond the settlement walls are innumerable dangers: feral animals, crumbling structures, and Abominations - those that were touched by the plague and became something other. After a decade of surviving, Daisy isn't phased by any of it - until her lover, another Runner named Heather, goes missing on a job. Desperate to find her, Daisy begins to see that there may be little difference between the world inside the walls and the horrors beyond. From writer Vita Ayala (Bitch Planet: Triple Feature) and Emily Pearson (Cult Classic) with colors by Marissa Louise (Spell On Wheels) and covers by Natasha Alterici (Heathen), comes this bold tale of surviving in bleak times.
There are many stories in which the world is lost. But few that talk about the world after. When the pieces have started to fit back together. People have jobs, are parts of communities and creating families. They are living their lives. Daisy's part in the community may be a little more treacherous but she lives it daily and to the best of her ability. And her ability is the Best! But not even the best can be prepared for all dangers. Especially those that hide outside of the safe walls of The Compound. #1 of this new series from Black Mask will keep you on the edge of your seat. Come by and grab a copy of The Wilds now!
Just two this week, but there are many, many other great titles on the racks! Come by and we can talk to you about all the titles that you should be reading.