When a problem comes along, you must... Check out our new Amazing Staff Picks! (We totally had you singing for a second didn't we?) Let's talk some books.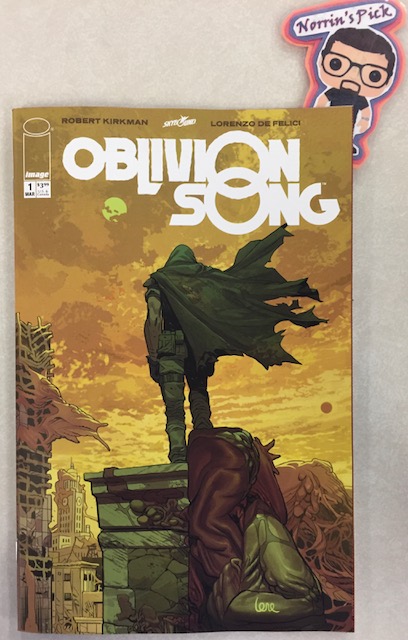 Norrin's Pick
Writer: Robert Kirkman
Artist: Lorenzo De Felici
Colorist: Annalisa Leoni
Letterer: Rus Wooton
A decade ago, 300,000 citizens of Philadelphia were suddenly lost in Oblivion. The government made every attempt to recover them, but after many years, they gave up. Nathan Cole...won't. He makes daily trips, risking his life to try and rescue those still living in the apocalyptic hellscape of Oblivion. But maybe...Nathan is looking for something else? Why can't he resist the siren call of the Oblivion Song?
If a catastrophic event befell our world and your family was taken away from you, how far would you go to find again? What would you risk? Would you face lands of unspeakable destruction? A lost world filled with the deadliest of creatures? Nathan Cole would. If it means getting those back he lost. He would go anywhere. He would risk everything.
Robert Kirkman (Walking Dead, Outcast) and Lorenzo De Felici's new Skybound series, Oblivion Song, takes you to the far ends of the darkest places while tugging at your heart strings. You can almost hear the soft, echoing song alluded to in the title. This is a must pick up. So come by and grab a copy today.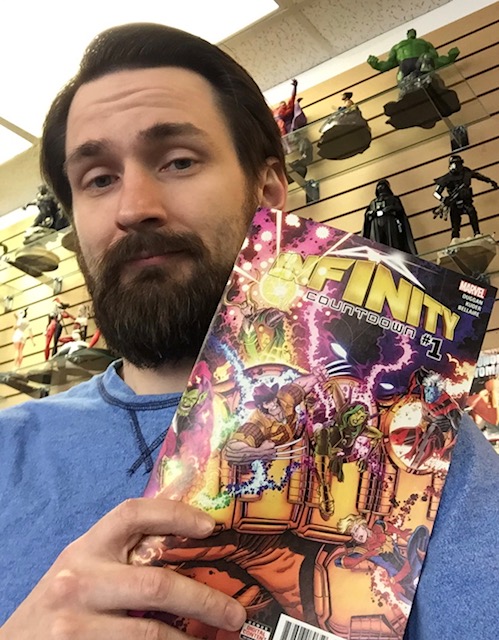 James' Pick
Writer: Gerry Duggan
Artist: Aaron Kuder
Colorist: Jordie Bellaire
Letterer: VC's Cory Petit
The Saga of the Infinity Stones begins! As the Infinity Stones reappear around the cosmos, the ultimate race for power is on!! Battles will be fought, blood will be spilled, lives will be lost... all as the greatest cosmic heroes and villains vie for possession of the Power Stone, towering over a remote asteroid, somehow grown to the size of a building. Watch as the path to Infinity opens before your eyes and the END lies near...
The greatest war of power is upon us and it is every Soldier, Warrior, Guardian, NOVA Corp, Anti-Hero and Villain for themselves. Who will win? Who will control the greatest power in all of the Universe? The story has just begun but the path will be long and bloody. The first issue of Mavel's Infinity Event is here. On shelves. And waiting for you!
Katie's Pick
Writer: Skottie Young
Colorist: Jean-Francois Beaulieu
"THERE'S MAGIC IN THAT THERE CALDRON!" Things in Fairyland certainly are a-brewin' with Gert out of the picture. Duncan Dragon joins the workforce, and Horribella means to collect what's hers as we FINALLY get that in-depth look into Fairyland's service industry and logistics!
Gert is gone. (Or we think she... It is Gert afterall!) And things are about to get crazy! But first. Duncan needs to get his life back on track. We know that life in Fairyland is like life in the real world. People need to work to live. And the Service Industry is not for the faint of heart. Will Duncan survive? Does it even matter? And what... Exactly... Is in that package Horribella is so desperately waiting for?
Skottie Young's I Hate Fairyland (also known as F*** Fairyland to us who love it most) #17 has THREE different covers, Image Fans! Make sure to stop in and grab a copy today.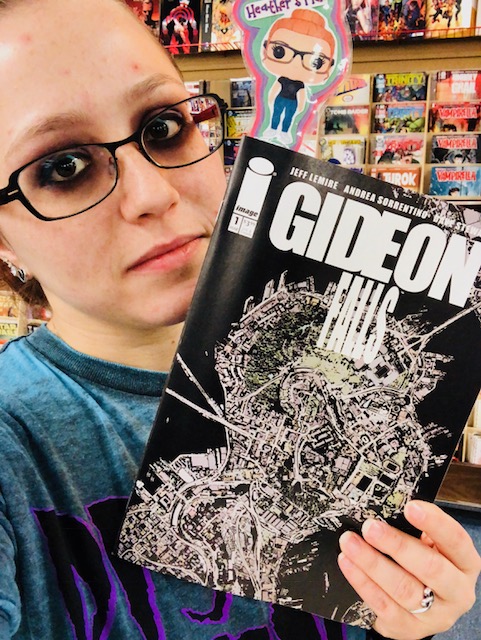 Heather's Pick
Writer: Jeff Lemire
Art: Andrea Sorrentino
Colors: Dave Stewart
Letter: Steve Wands
A brand-new ongoing series from the acclaimed bestselling creative team of Old Man Logan and Green Arrow! The lives of a reclusive young man obsessed with a conspiracy in the city's trash, and a washed-up Catholic priest arriving in a small town full of dark secrets, become intertwined around the mysterious legend of The Black Barn, an otherworldly building that is alleged to have appeared in both the city and the small town, throughout history, bringing death and madness in its wake. Rural mystery and urban horror collide in this character-driven meditation on obsession, mental illness, and faith.
A shadow has fallen on a small town. The Black Barn has appeared and the omen can only bring about death. Will the confluence of events that happen around the small town bring destruction or is it merely fate that will bring blood? When it comes to suspense. Conspiracy. Mystery. Gideon Falls from Image Comics is an absolute must. Issue #1 is here!
It is also... Sold out! The series is so good that we could not keep it on the racks. If you were not able to grab a copy while we had it, come in and make a pre-order. The 2nd Print will be available on April 4th.
Another week. Another set of books! Come by the store and we can offer you even more!