Need something new to read? We are here to help! Let's get to some Amazing Staff Picks...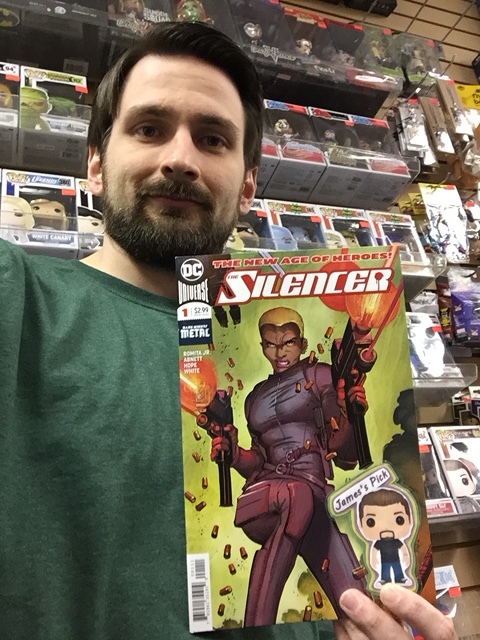 James' Pick
"CODE OF HONOR" part one! She's one of the DC Universe's deadliest assassins... and you've never heard of her. Super-strong, highly trained, armed with devastating and stealthy meta-human abilities, the Silencer is virtually invincible. Or at least she was. After decades as Leviathan's chief assassin, Honor Guest put in her time and managed to get out with her skin intact. Now she lives a normal life with a normal family in a normal house on a normal street. But the past has come back to haunt her in the form of her old employer and a deadly new mission... and Talia Al Ghul won't take no for an answer.
Star Wars - DJ: Most Wanted #1
Hacker and Traitor. Who is DJ? How did he come to find himself locked up on Canto Bight? Is there more to the character than meets the eye? Probably... This is Star Wars! But for us to speculate more, we need to start at the beginning. Pick up this eye-opening one-shot and learn more about the mysterious man who is only as good (or evil) as the price you pay.
Katie's Pick
On a dark, haunted night, a Russian oligarch dares a circle of international chefs to play the samurai game of 100 Candles-where each storyteller spins a terrifying tale of ghosts, demons and unspeakable beings-and prays to survive the challenge. Inspired by the Japanese Edo period game of Hyakumonogatari Kaidankai, Hungry Ghosts reimagines the classic stories of yokai, yorei, and obake, all tainted with the common thread of food. First course: With bad consequence, a ramen chef refuses to help a beggar, and a band of pirates get more (and less) than they were bargaining for after their encounter with a drowning woman turns ghastly. Hungry Ghosts is cooked up by the infamous author and chef, Anthony Bourdain (Emmy-Award winning TV star of Parts Unknown) and acclaimed novelist Joel Rose (back again from their New York Times #1 best seller, Get Jiro!). Joining them this issue are stellar artists Alberto Ponticelli (Second Sight) and Vanesa Del Rey (Redlands), with amazing color by Jose Villarrubia, and a drop-dead cover by Paul Pope (Batman Year 100).
Famed... Or In-famed? Chef and world traveler, Anthony Bourdain loves to tell stories. From prose to comics, Bourdain sits at the top of the New York Times bestsellers lists. His new story, one of the first line of books from the exciting to Berger Books line from Dark Horse, is a must pick-up.
Heather's Pick
"FLASH WAR" prelude! The biggest Flash story of 2018 starts here, with a special story starring the classic Wally West, who's conflicted over whether to let Iris West know he is alive-and he'll need the help of the Flash to figure out what to do! But when Magenta, Wally's old love, needs his help, the Flash returns home to Keystone City where he is confronted with violent memories of an unknown world...A major turning point for the Flash family that sets the path for earth shattering stories in 2018!
Joshua Williamson (Nailbiter) and Christian Duce (Detective Comics Rebirth) are about to take the DC world by storm. Or maybe more by Speed Force? The Flash War is about to begin. But before we jump in, we need to look back at how the Rebirth all began. Wally still has not confronted certain aspects of his life and he needs Barry's help. But... Of course... If it was only as easy as a simple decision and nothing ever interfered... Well... It wouldn't be a very long issue, now would it? The Flash Annual #1 is out now, come by and grab a copy of your very own.
That is it for this week. But... Do you need a few more options? Come on into the store and let us stock you up with all the best!