We love comic books. We just... REALLY love comic books! And the only thing we love more is talking to you about comic books. So... Let's talk comics! Here are this week's Amazing Staff Picks.
Katie's Pick
"AWAKENINGS II," Part Five. In the wake of an officer-involved shooting, Rowan's lies are threatening to unravel. The Ascension threatens tragedy for those closest to Rowan.
Rowan is stuck. Between an investigation of the shooting of a police officer and a world that she has been keeping hidden. But, while trying to keep herself composed, The Ascension is trying to affect everyone around her. Rowan is at a precipice. And she needs to figure out how to untangle all aspects of her life.
This is the fifth of the six-part, second arc of Black Magick. We have the issues and, if you aren't already reading the series from Greg Rucka (Wonder Woman) and Nicola Scott (also Wonder Woman), you really need to come in!
PS: We are also taking pre-orders for Volume 2, which is set for a May 2, 2018 release.
James' Pick
THE FATE OF THE FOUR Part 2. What is THE SECRET OF REED RICHARDS? And is it deep within MONSTER ISLAND? Ben and Johnny are the only ones who can uncover it, unless DOOM beats them to it! THE FATE OF THE FOUR continues here!
Could Reed and Sue really be alive? Could the letter that Doctor Doom found be more than a pathway to the multiverse... But, in reality, a pathway to Johnny and Ben's missing companions? Could... Could the Fantastic Four be the Fantastic Four again?
Well... Marvel is basically letting comics' most wild creator write it? So... Maybe?! Chip Zdarksy (Sex Criminals, Howard the Duck) and Jim Cheung (The Clone Conspiracy) are bringing back... Or not... The characters we miss the most. Come by and grab a copy of Marvel 2-in-One #2. As well as #1! If you need it...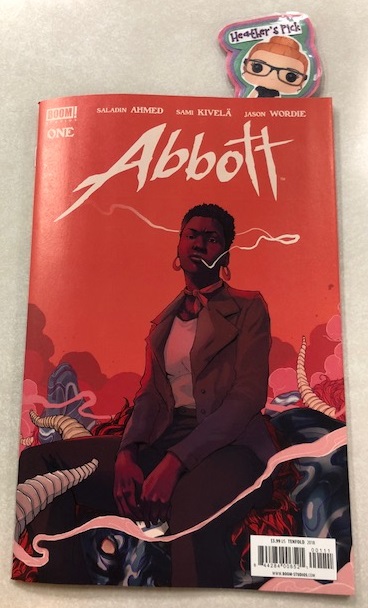 Heather's Pick
Hugo Award-nominated novelist Saladin Ahmed (Black Bolt) and artist Sami Kivelä (Beautiful Canvas) present one woman's search for the truth that destroyed her family. Hard-nosed, chain-smoking tabloid reporter Elena Abbott investigates a series of grisly crimes that the police have ignored. Crimes she knows to be the work of dark occult forces. Forces that took her husband from her. Forces she has sworn to destroy.
Darkness seeps out in ways that many just ignore. Including the Police and hardened News Journalists. But the best, do not need to have their names on the front page. And Elena Abbott is the best. She is not taken seriously, especially during a time of racial unrest. But... She sees passed what others refuse to even look at. The evil behind the mundane. And the Cult that took everything away.
To tag along with Black Magick #10, make sure to grab a copy of Abbott #1!
These and so many other good stories are just waiting for you. Come by the store and let us top you off with all of the best!