This is it. The LAST Amazing Staff Picks of 2017. Can you believe how fast this year went by? Let's finish 2017 out strong with a few really AMAZING Amazing Staff Picks!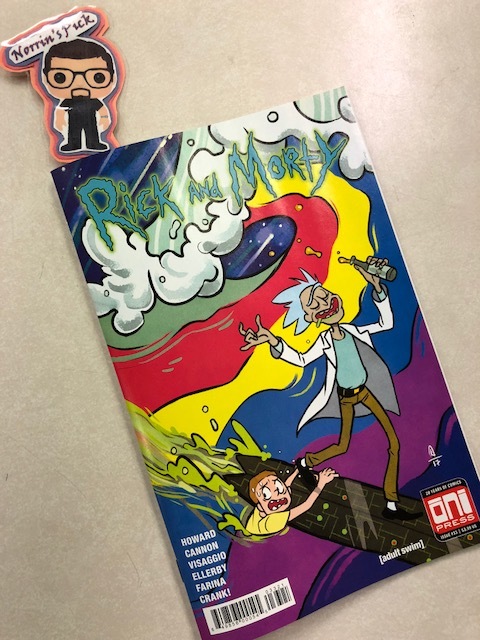 Norrin's Pick
One Experimental Summer! It's the hottest, most boring part of the year-so can you blame Summer for going exploring in Grandpa Rick's garage for a dimension where she gets what she wants? She'll learn a little about science, a lot about life, and a whole bunch about having a crush on a girl.
It is the long anticipated Summer Issue! No.. No... Not like the "Summer", warm sun, playing on the beach issue. But Summer's Issue! Summer may be a little bored but it isn't like she doesn't have a huge garage of her Grandpa Rick's gadgets to play around with. From Writers Tini Howard and Magdalene Visaggio, along with artists CJ Cannon and Katy Farina, watch as Summer explores strange new worlds, experiences new loves and new loses. Rick and Morty #33 is here and it's waiting for you!
Katie's Pick
Melba is assigned to her first case, investigating a series of child disappearances in rural Georgia. As Melba and Agent Crockett uncover clues about the horror gripping the residents, Melba must resist both the temptation to escape into the real world after spending seven years locked up and the terrible appetite of the newly unleashed Polly Peachpit, Melba's own personal psychic parasite-a massive spider-human only Melba can see, but is far from imaginary.
This world is filled with Monsters. Monsters that you or I may not see, but ones that stalk the minds of those most impressionable. Those who's minds are weak, they are the ones that know the truth. For they are the only ones to see them, the IMPs (Interdimensional Mental Parasites). Tim Seeley (Grayson) and Stephen Molnar (Danger Girl Renegade) bring their Slender Man murder style horror story to life in Melba's tale of Aliens, Psychopathy and Mystery! The first and second issues are out now.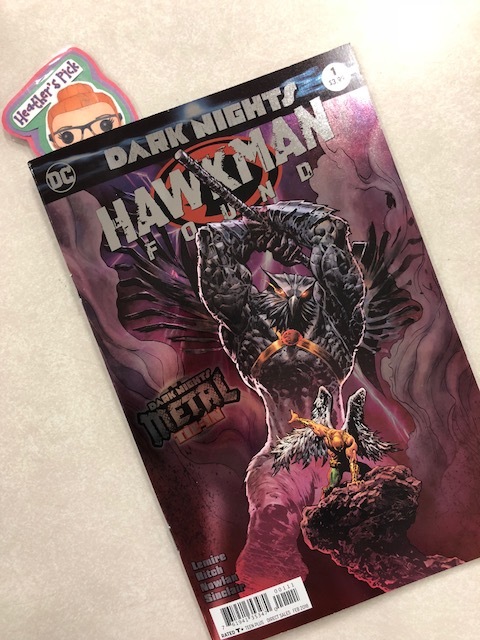 Heather's Pick
One of DC'S greatest heroes is missing! No one has seen or heard from Carter Hall-a.k.a. Hawkman-in years. Reincarnated repeatedly since the dawn of humanity, Hawkman has spent his many lives uncovering history's most fantastic mysteries, and now he has become one himself! Take a journey into the one of the darkest corners of the DC Universe as a mysterious man tries to piece together what happened to Hawkman, and how it all connects to the events of DARK NIGHTS: METAL!
Hawkman... Carter Hall... Has gone missing. But that is only the beginning of the mystery. Hawkman's entire reason for being is destiny. A destiny of renewal. A destiny of love. A destiny so heavy only a warrior could carry. In this Dark Nights Metal tie-in, writer Jeff Lemire (Descender) and artists Bryan Hitch (Justice League of America) and Kevin Nowlan (Doctor Strange) bring Hall's story to the precipice of return. But how high and what that precipice conceals... Now those are the questions. Hawkman Found #1 is on shelves now! (And you can't miss it with its shiny cover!)
James' Pick
Teenage Wasteland Part 1
Jersey City still has a need for a super hero, but why has KAMALA KHAN, a.k.a MS. MARVEL, vanished? In the wake of her disappearance, the city's newest hero RED DAGGER and even ordinary citizens attempt to carry on her Legacy of heroism. MS. MARVEL is nowhere...but also everywhere at once! And when an old enemy re-emerges, will anyone be powerful enough to truly carry the MS. MARVEL legacy but Kamala? PLUS: Includes 3 bonus MARVEL PRIMER PAGES!
Ms. Marvel is an icon. An Original. A First and Only. But... When she goes missing, is there a way to duplicate her? To repeat the greatness she has brought to her community? Well... In her Marvel Legacy issue, Her community will definitely try! The issue from series writer G. Willow Wilson and artist Nico Leon (Hulk NOW!), is on sale now!
There they are, Comic Fans, our last Picks of 2017. We are open today (New Years Eve) and hope to see you come by and pick up these incredible titles and many others. But... If we do not see you today, have a wonderful New Years and we will see you in 2018!