Are you still stuffed from Thanksgiving? It has been over a week and... Phew! We still may not want to look at food for another few days. Unless it is Christmas candy! And you know what goes best with candy? A brand new read! Let's get to some Amazing Staff Picks...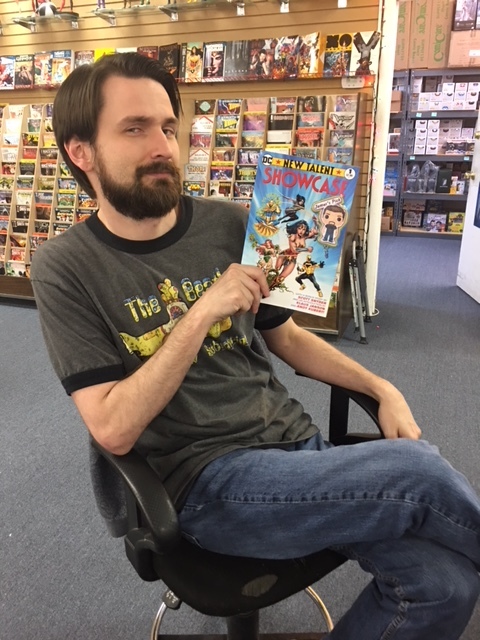 New Talent Showcase 2017 #1
James's Pick
The latest graduates from the DC Talent Development Workshops show off their skills in stories starring some of DC's greatest characters. In these tales, Poison Ivy fights an ancient demon, Doctor Fate is confronted by the cost of magic, Red Hood and Duke Thomas face off in a training day simulation and so much more!
DC Comics holds a special talent workshops every year in which they work to develop new and upcoming talent and then give them opportunities to write stories. Like the ones for the New Talent Showcase! This year there are several AMAZING stories including one about Duke Thomas's exciting new alter-ego, The Signal!
If you didn't check out the Showcase from 2016, you NEED to come in and check out the 2017 New Talent Showcase. This group of new talent will definitely surprise you!
Katie's Pick
"SUPER-PETS UNLEASHED"! The World's Furriest team Krypto and Titus-together at last! Tired of the boys stealing the spotlight, the doggy duo lead the Super Sons on a canine-powered epic!
It is the Super Sons issue we have all been waiting for... THE PUPPY ISSUE!!! That is right, it is time for Krypto and Titus to take hold of the leashes and run the show. Bringing a few other super-furred-friends along for the ride.
Writer Peter J. Tomasi (Superman Rebirth) with artists Paul Pelletier (Cyborg) and Cam Smith (Amazing Spider-man) tell a fun and adorable tail (yes, tail) that we will be taking about for years to come! So come on in and grab a copy before they are all gone!
Heather's Pick
JOHN WICK: BOOK OF RULES PART ONE
When a young John Wick emerges from prison and embarks upon his first, epic vendetta, he comes up against a strange, powerful community of assassins and must learn how to master the Book of Rules that guides their lethal business. What are the Three Bills? Who is Calamity? And who was John Wick before he became the Baba Yaga? Here for the first time, read the thrilling origin story of John Wick, from Planet Hulk writer Greg Pak and X-Men Blue artist Giovanni Valletta.
If you are like Heather, you are already talking about the third John Wick movie. Like non-stop. (Because it is so exciting!) But... What about before John Wick became John Wick? What happened that turned him into one of the deadliest and terrifying assassins? Well... Let's find out!
From Greg Pack and Giovanni Valletta comes this new Dynamite Entertainment MUST (yes, MUST) read. Come in today and grab your copy of John Wick #1. Or... If you missed it, come by and place your order. We have already sold out! But! It is still available and we are more than happy to order a copy for you to love and enjoy.
We could keep going... Or... You could come in and we can offer you even more great choices! We love talking new titles! So... We will see you soon? And don't forget to stop by here, every week, to see all the latest and greatest Amazing Staff Picks!