Dear Customers,
We know you need new and exciting things to read. And we are MORE than happy to through some books at you! Here are this week's Amazing Staff Picks.
Katie's Pick
Human evolution has taken millions of years to get to this stage. But next week, we become something new. Around the world, humanity is undergoing rapid and unpredictable changes, and only three individuals seem to notice that their world is being reborn. But what can they do about it? Skybound unites writers James Asmus, Joseph Keatinge, Christopher Sebela & Joshua Williamson and artists Joe Infurnari & Jordan Boyd to create a new global phenomenon in this oversized debut issue.
Phew! Do you see that list of creators? Evolution #1 brings a new look into a more drastically evolving world and the team behind? WOW! Creators of books like The Flash, Hearthrob and Kong of Skull Island all come together for this massive oversize first issue. Come on in and grab Evolution #1.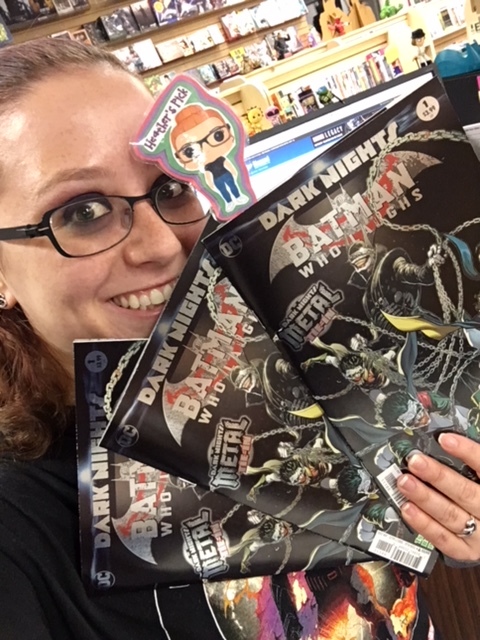 Dark Nights: Batman Who Laughs
Heather's Pick
As the events of DARK NIGHTS: METAL rock the DC Universe, the creatures of the Dark Multiverse stand ready to invade our world! How can the World's Greatest Heroes stop a horde of deadly beings that appear to be powerful nightmare versions of familiar figures? Find out in these special tie-in issues!
What do you get when you mix the guy writing Detective Comics, Rebirth (James Tynion IV), and the guy who drew Batman/The Shadow (Riley Rossmo)? Something both beautiful and just a little big crazy. Batman Who Laughs introduces the most anticipated Batman yet. In our universe, there must always be a Batman and a Joker. Two halves of the coin. But... Who will stop them if they are one-in-the-same? Dark Nights: Batman Who Laughs #1 is flying off shelves. Have you grabbed your's yet?
James's Pick
For years, Frank Castle has been fighting a one-man war against criminals who endanger the innocent, but when a certain one-eyed operative offers him the tools to take his fight global...how could he say no? Find out how Frank found his way into the WAR MACHINE Armor! PLUS: Includes 3 bonus MARVEL PRIMER PAGES!
Wait... Wait!! Did they just say WAR MACHINE? So not only is Frank Castle cleaning up the streets as The Punisher, in his new Legacy title, but he is also the heavily armoured War Marchine? If you haven't yet been tempted to come in with the others... You MUST come in to grab this introductory issue from Matthew Rosenberg (4 Kids Walk Into a Bank) and Guiu Vilanova (Twilight Zone).
So Comic Fans? Are these good? Do you need more? Come on in and grab all the new plus more and more and more!